Comfort and order
The OakyBlocks Large Tray helps you organize miscellaneous items you don't want to lose but don't quite know where to store. Your earphones, keys, or watch can be neatly organized within your arm's reach. Use the tray on its own or combine with other OakyBlocks modules.
Built-in magnet
Fitted with magnets, the Large Tray lets you connect it with other OakyBlocks components to create the most convenient setup.
Stability and security
A cork layer at the base of the tray prevents it from scratching your surfaces and moving around.
Ecological finish
Natural wax oil coating the surface protects the tray without clogging the wood's pores, allowing it to breathe.
OakyBlocks – how does it work?
The large tray is a part of the OakyBlocks range – a series of wooden accessories varying in purpose and size which you can combine at will to make custom organizers. Each element has a built-in magnet allowing it to firmly connect to others.
Dimensions
Length: 19 cm
Width: 9.5 cm
Length: 7.48 inch
Width: 3.74 inch
Large Tray (OakyBlocks)
Total price: $51.00
Production and labor
$-0.40
Production costs include the price of materials and their transport, as well as production workers' wages. We take particular care to use the highest-grade materials.
Taxes
$-0.23
As a company registered in Australia we pay all taxes & GST required.
Margin & Fixed Costs
$-0.34
Our product prices include not only production and operations expenses but also fixed costs, marketing budget, and employee salaries.
Environmental Initiatives
$1.00
We are proud to continue working with organizations such as One Tree Planted and Forever Forest. A portion of profits from every product goes to tree planting initiatives.
Sustainability
Solid walnut wood – American walnut wood is a durable, long lasting, and damage resistant material. Its unique, rich chocolate tone is complemented by a clear wood grain.

Solid oak wood – sourced in Poland, oak wood is sturdy, damage resistant, and exceptionally durable. The distinctive heaviness of the material is offset by its light color and prominent wood grain.
Customer Reviews
Filter Reviews:
Oakyblocks
nail file
lip balm
wood color
trays
complaints
things
feature
item
desk
10/23/2022
Pretty neat!
I can tell this one will last for years, it is the perfect size to leave US dollar bills, which is what I am using it for now.
Michele m.

United States
09/30/2022
Minimalistic elegance
Oakyblocks are awesome! The tray doesn't just organize things, it gives them a special place on the desk.
Samantha M.

United States
09/07/2022
fave
This is my favorite item so far. It holds my lip balm and nail file. So if I need it, I grab it.
Ellie P.

United States
06/10/2022
Solid Tray, Small Tray
Great finish and overall product. I love the design and the quality is fantastic, however it is a lot smaller than I'd like. You can store an iPhone 13 in it but nothing else for example. A pair of sunglasses would be tough to fit with any other items. It works for small items but I wanted a nice edc tray / pocket dump tray and this is not it!
Daniel W.

United States
01/03/2022
Great aesthetics and magnetic feature is cool
I love the oaky blocks. I got two of these and the small trays. The magnetic feature makes it super easy to configure the set up to how you like. The wood color is great and has been helping me stay organized. I do wish the trays were a bit more deeper, but other that that I have no complaints.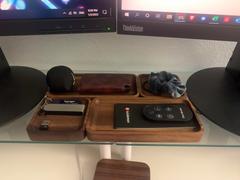 Shipping
At Oakywood, we work alongside trusted carriers like Australia Post, UPS, DHL, USPS & many more around the globe to provide Australia, NZ, USA, Europe & International Worldwide shipping services.

You can calculate the shipping cost in checkout.
All Custom orders and desks need between 2-4 weeks to process. All engraving orders need extra 7-10 days to process.
All orders outside of Australia may incur duties & taxes at the customs.
AU: Australia Post (3- 7 Business days)
EU: Express delivery - DHL Express (1 Business day)
EU: Standard - DHL Parcel (2-5 Business days)
US: UPS or USPS (1-4 Business days)
Worldwide: DHL or UPS Express (2-5 Business days)
Returns & Exchanges
If you are not completely happy with the received product, please send it back to us within 30 days for a full refund. Please also email us at hello@oakywood.com.au to inform us.

Please, remember: you cannot return a personalized product.
We'll issue a refund on receipt, or exchange the item for a different size/color if preferred. The cost of returning the item to us is your responsibility.