Multi-level organization
The 2in1 Headphones Stand functions both as a headphones storage solution and a wireless charger. The wide, black painted steel handle allows you to safely hang any headphones while the geometric wooden base lets you effortlessly charge your phone. Keep your essentials at hand and ready to use.
Dual-purpose
Combining a sturdy headphones stand with wireless charging technology streamlines your office setup and organizes your most needed accessories.
In-case charging
The built-in is compatible with cases up to 4 mm thick which allows you to charge your phone without removing its cover.
LED light
Equipped with an LED light, our dual-purpose headphones stand lets you know your device is charging.
Geometric design
Handmade from a piece of solid wood, our 2in1 Headphones Stand boasts a modern geometric design. Its surface is smooth and pleasant to the touch due to an eco wax oil coating which protects the wood without closing its pores. The base allows you to charge all types of smartphones securely and comfortably thanks to its robust size.
Dimensions
Length: 13 cm
Width: 13 cm
Height: 30 cm
Length: 5.1 inch
Width: 5.1 inch
Height: 11.8 cm
2in1 Headphones Stand
Total price: $101.00
Production and labor
$-0.33
Production costs include the price of materials and their transport, as well as production workers' wages. We take particular care to use the highest-grade materials.
Taxes
$-0.23
As a company registered in Australia we pay all taxes & GST required.
Margin & Fixed Costs
$-0.43
Our product prices include not only production and operations expenses but also fixed costs, marketing budget, and employee salaries.
Environmental Initiatives
$1.00
We are proud to continue working with organizations such as One Tree Planted and Forever Forest. A portion of profits from every product goes to tree planting initiatives.
Sustainability
Solid walnut wood – American walnut wood is a durable, long lasting, and damage resistant material. Its unique, rich chocolate tone is complemented by a clear wood grain.

Solid oak wood – sourced in Poland, oak wood is sturdy, damage resistant, and exceptionally durable. The distinctive heaviness of the material is offset by its light color and prominent wood grain.

Stainless steel – due to its chromium content, stainless steel is resistant against corrosion and mechanical damage.

Powder coated steel – thanks to the surface covered with electrostatic paint powder, the steel becomes durable and resistant to corrosion, chemical or mechanical damage, and high temperatures.
Customer Reviews
Filter Reviews:
charger
headphone stand
stand
phone
design
materials
Oakywood
something
place
anywhere
08/23/2022
Simple and Effective
Exactly what I wanted. As others have noted the bar that holds the headphones could have some cushion just to be gentler on my headphones but I don't think it's actually an issue. Great product! Looks great with my other Oakywood products.
Kristina P.

Croatia
06/29/2022
Great ansd stylish item, material is great and charger is working perfectly. Love it . :)
Ben T.

United States
06/29/2022
Attractive headphone stand, mediocre wireless charger.
The headphone stand I received was a little lopsided, but otherwise remains a very attractive piece. Wireless charging, however, is very finicky. Placement of the device is very specific and the charging speed is expectedly slow. I probably would save money next time by buying the non charger version.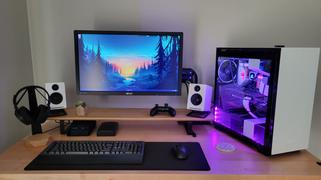 Greg C.

United States
04/13/2022
Could be great with small redesign
It is great looking, and the charger works well with my Samsung, BUT... my main concern is the shape of the hanging surface. The fact it is flat and hard means that it will quickly wear into the soft material on your headset. The hanging surface should be curved and should also be slightly padded. Make this small change and it would be a 5 star product.
Timo T.

United Kingdom
03/30/2022
Great piece
Works great, looks good! Really helps my setup be both functional and aesthetically pleasing.
Shipping
At Oakywood, we work alongside trusted carriers like Australia Post, UPS, DHL, USPS & many more around the globe to provide Australia, NZ, USA, Europe & International Worldwide shipping services.

You can calculate the shipping cost in checkout.
All Custom orders and desks need between 2-4 weeks to process. All engraving orders need extra 7-10 days to process.
All orders outside of Australia may incur duties & taxes at the customs.
AU: Australia Post (3- 7 Business days)
EU: Express delivery - DHL Express (1 Business day)
EU: Standard - DHL Parcel (2-5 Business days)
US: UPS or USPS (1-4 Business days)
Worldwide: DHL or UPS Express (2-5 Business days)
Returns & Exchanges
If you are not completely happy with the received product, please send it back to us within 30 days for a full refund. Please also email us at hello@oakywood.com.au to inform us.

Please, remember: you cannot return a personalized product.
We'll issue a refund on receipt, or exchange the item for a different size/color if preferred. The cost of returning the item to us is your responsibility.