Optimized space
Our Desk Shelf allows you to effectively structure and organize your desk space. It is wide enough to hold two screens or one ultrawide monitor. Thanks to its elevated design, the shelf frees up space underneath your devices providing extra storage for important accessories you want to keep close such as a keyboard, headphones, or a notebook.
Stable and durable
The Desk Shelf has the capacity to hold up to 100kg of weight, making it possible for you to safely place two monitors on top.
Extra organizational space
By elevating your screens, the Desk Shelf provides an additional organizational level, maximizing the usable space on your desk.
Extended functionality
You can upgrade the functionality of your Desk Shelf by combining it with compatible Oakywood accessories.
Practical minimalism
The minimalist design makes our Desk Shelf a truly convenient and functional accessory. 45-degree beveled edges make the entire construction appear lightweight and minimalist. The shelf rests on two curved steel legs which keep it extremely stable but visually unimposing. Coated with eco wax oil, the wood remains smooth without closing its pores.
Dimensions
Length: 105 cm
Width: 23 cm
Height: 11 cm (9 cm below the shelf)
Leg span: 72 cm
Length: 41.34 inch
Width: 9.06 inch
Height: 4.33 inch (3.54 inch below the shelf)
Leg span: 28.35 inch
Desk Shelf
Total price: $181.00
Production and labor
$-0.34
Production costs include the price of materials and their transport, as well as production workers' wages. We take particular care to use the highest-grade materials.
Taxes
$-0.23
As a company registered in Australia we pay all taxes & GST required.
Margin & Fixed Costs
$-0.42
Our product prices include not only production and operations expenses but also fixed costs, marketing budget, and employee salaries.
Environmental Initiatives
$1.00
We are proud to continue working with organizations such as One Tree Planted and Forever Forest. A portion of profits from every product goes to tree planting initiatives.
Sustainability
Solid walnut wood – American walnut wood is a durable, long lasting, and damage resistant material. Its unique, rich chocolate tone is complemented by a clear wood grain.

Solid oak wood – sourced in Poland, oak wood is sturdy, damage resistant, and exceptionally durable. The distinctive heaviness of the material is offset by its light color and prominent wood grain.

Powder coated steel – thanks to the surface covered with electrostatic paint powder, the steel becomes durable and resistant to corrosion, chemical or mechanical damage, and high temperatures.

Portuguese cork – a natural and ecological material harvested in a way which allows the tree to fully regenerate. The outer layer of the cork oak is safely removed and subsequently grows back.
Customer Reviews
Filter Reviews:
desk
quality
stand
Oakywood
desk shelf
monitor
shipping
space
price
legs
09/22/2022
Desk Shelf - Dual Monitor Stand
Integrates perfectly in my office. Was able to create more free space on the table
Freddy M.

United States
09/21/2022
Great product! Highly recommend.
This shelf is beautiful and it comes at a fair price. It's really changed my WFH experience for the better. Thanks Oakywood team, this is both beautiful and functional!
Martin Y.

United Kingdom
Nicola M.

Switzerland
08/25/2022
Riscontro diretto
Ho acquistato questo prodotto a scatola chiusa e devo dire che la qualità é al disopra delle aspettative. ottimo prodotto, facile da montare e munito anche di tutti gli attrezzi.
Faouzi B.

Belgium
08/23/2022
Desk Shelf - Dual Monitor Stand
Very beautiful piece. I have a big screen 34' so only one screen can fit, but it made me spare so much space on my desktop. I can put the computer just below, my power station on top next to the screen and a lamp. The build quality is nearly perfect. Delivery was fast and without any scratches. Cheers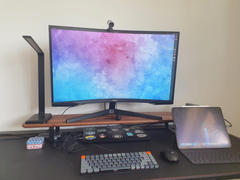 Shipping
At Oakywood, we work alongside trusted carriers like Australia Post, UPS, DHL, USPS & many more around the globe to provide Australia, NZ, USA, Europe & International Worldwide shipping services.

You can calculate the shipping cost in checkout.
All Custom orders and desks need between 2-4 weeks to process. All engraving orders need extra 7-10 days to process.
All orders outside of Australia may incur duties & taxes at the customs.
AU: Australia Post (3- 7 Business days)
EU: Express delivery - DHL Express (1 Business day)
EU: Standard - DHL Parcel (2-5 Business days)
US: UPS or USPS (1-4 Business days)
Worldwide: DHL or UPS Express (2-5 Business days)
Returns & Exchanges
If you are not completely happy with the received product, please send it back to us within 30 days for a full refund. Please also email us at hello@oakywood.com.au to inform us.

Please, remember: you cannot return a personalized product.
We'll issue a refund on receipt, or exchange the item for a different size/color if preferred. The cost of returning the item to us is your responsibility.